Banned Illegal Explosives
Cherry Bombs, Silver Salutes, and M-80's have been banned by Federal Law since 1966 because of the large amounts of explosive composition they contain. If you find any of these items, DO NOT touch them. Immediately call your local police or fire service. If you are aware of someone selling these illegal and dangerous items, contact the Bureau of Alcohol, Tobacco and Firearms immediately at 1-888-ATF-BOMB.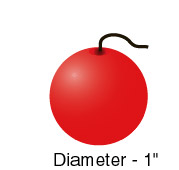 Cherry Bombs: Cherry bombs are red in color. They are approximately 1" in diameter. NOTE: Similar-looking, legal devices that produce a stream of smoke will be clearly marked as a "Toy Smoke Device." Smoke devices will NOT be red in color.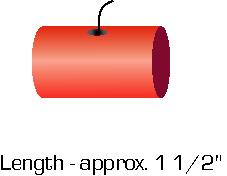 M-80's: M-80's are red in color. They are approximately 1 ½" in length.
Silver Salutes: Silver salutes are silver in color. They are up to 2" in length. The fuse of a silver salute can enter either the side or the end of the tube.